Kiss My Face – Dolphin Mouthwash
Kiss My Face - Dolphin Mouthwash
| | |
| --- | --- |
| School: | RIT |
| Team: | Kevin French, Ying Li, Junhan Wang, Palvinder Chawla, Travis Walker, Carlos Diaz, |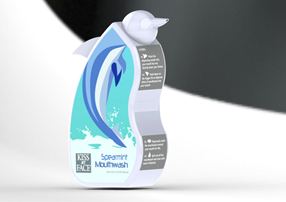 When designing a repack for mouthwash, we wanted to make sure that we designed a way to dispense the product without having to pour it into a measuring cap. Using a pump spray, our group designed a way to dispense a specified amount of mouthwash with one push of a lever.
Knowing that a pump spray is not a material reduction from the traditional bottle, we had to make sure that we found a material that could satisfy our design needs while providing benefit to the environment. We know that there is a plastic resin available through a company named Envision Plastics that is made of post-consumer recycled plastic recovered from the ocean. With this material choice, we are promoting a responsible use of materials.
Promoting our ocean plastic material choice made the dolphin a natural fit. We knew that we wanted to use a pump. The idea of designing a bottle shaped like a dolphin, using the fin as the trigger, was an idea we were able to take and run with.
We also wanted to make sure that the bottle could be refillable, because the best way to reduce material usage is by keeping the materials "alive" and reusing them. We were able to design a cap that can be removed so new mouthwash can be poured in.
Our design holds 22 Fluid Ounces of mouthwash in a bottle that fits comfortably in your hands. It is shaped with usage in mind and a groove in the front for a thumb to grip and a large curved back for four fingers, one or two of which can be used to push down the trigger fin. The bottle can also be picked up to dispense mouthwash directly into your mouth.
The graphics were carefully made to fit the shape of the bottle in such a way that the trigger and cap would fit with the artwork designed on the main panels. On the minor panels, we included instructions on how to use the product, along with a statement encouraging consumers to recycle the bottle. The graphics tie the structural design together to make the bottle look like a dolphin jumping out of the water.
Our dolphin bottle design stands out on the shelf and creates a connection between the consumer and the product. We feel that this design can be manufactured relatively easily, and even if it is not refilled with mouthwash, consumers will want to keep it for a cute spray bottle for plants or a toy for a child. While re-inventing the traditional packaging for a product is never easy, we believe that the dolphin bottle with a pump is a great step in changing the morning routine for people everywhere.