Kirk's Original Coco Castile Bar Soap
Kirk's Original Coco Castile Bar
| | |
| --- | --- |
| School: | Georgia State University |
| Team: | Deborah Bush, Amy Dinsmore, Simmeyon Strickland |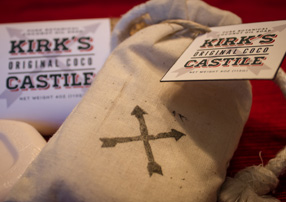 Bar soap packaging has become overly wasteful. Some brands have up to three or four layers of extra wrappers and packaging that is just thrown away after opening. Additionally, bar soap is almost never fully used: the last 15-20% becomes messy and easily breakable, and is often wastefully thrown away.
Kirk's hypoallergenic, all natural coconut oil soap is made without synthetic detergents or animal by-products. We chose to repackage this brand of bar soap so the package reflects the sustainable, earth-friendly product inside. By encasing Kirk's soap in muslin or hemp pouches, we eliminate the need for washcloths or loofahs. Leaving the soap in the pouch during use keeps the soap together even if it breaks, and the pouch also allows a consumer to combine and collect small soap scraps that would normally be discarded.
The exfoliating burlap pouch features a pillow fold, enabling easy access for refills. The gentler muslin pouch for more sensitive skin and everyday cleansing features a drawstring closure. The can be reused for future soap purchases, continuing elimination of loofahs and washcloths. Between uses, these pouches can be air dried or machine washed. This package is environmentally friendly, cost-effective, and reusable.