Ice Cap Mouthwash
| | |
| --- | --- |
| School: | Rochester RIT |
| Team: | Richard Kuiken, Garrett Kimble |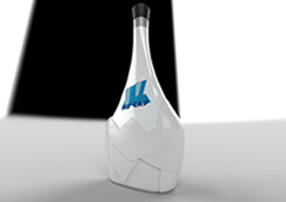 Only 45% of American use mouthwash every day. With large awkward bottles making handling difficult, maintaining a spill free clean bathroom can be compromised. Using the cap as a cup can cause the bottle and storage areas to become messy. For millions of Americas, this is how they start their day. With these persistent problems many of us are getting started on the wrong foot.
The quickest and easiest solution was to design an ergonomic bottle for traditional usage. An initial design of a "shot top" was designed, but that was later found to already be used by Acts mouthwash. This design also requires the lifting and handling of the entire large product container. By going the extra step this new cap works as a large pipette to draw liquid from a straw in the bottle. This pulls the liquid into a small easy to handle vessel that will transport the mouthwash without spills or the handling of large bottles. Furthermore, this allows the volume of mouthwash to be controlled.
The material was carefully selected for this packaging. Cardboard containers can break down over time in a humid environment i.e. the bathroom during and after showers. Biodegradable plastics currently on the market must be composted to biodegrade which is not offered in many of the towns and cities across the United States. The cost of this material greatly increases the cost of the product. Glass can increase weight for shipping, and can break causing injury to the user. The Ice Cap bottle is made of Post-consumer polyethylene terephthalate, commonly called PET. In 2013 it is estimated that over 2.8 million tons of plastics will be saved from the landfills to be used in recycled produces like the Ice Cap bottle. In 2011 a report published by MOORE Recycling Associates INC stated "… at least 94% of the U.S. population has access to PET bottle and cap recycling.", so most of the American population would have an easy way to complete this bottles journey from cradle to grave without ending up in a landfill. This material is also light weight, shatter-proof, and has great impact strength for practical shipping and use. Recycled PET can work with a blow molding process which is an efficient, cost effective process in which this innovative product is created.
This bottle was specifically designed to be user friendly for repeated daily use. It allows for a bright shelf presence that provides a recognizable bottle design. The sleek design and minute surface texture provide a frosted look on the bottom and a completely clear bottle neck for easy inspection by the consumer at the point of purchase. The cool, clean, branding gives a sense of a pure and fresh look that is essential for any bathroom product.