Ecozone Butter
| | |
| --- | --- |
| School: | Virginia Tech |
| Team: | Michael Clifton |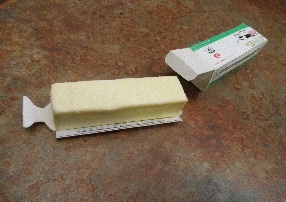 The main inspiration for the design of Ecozone butter package was to improve customer experience with dealing with the butter product. When dealing with butter most customers express that current butter packaging can be difficult to open, messy when opening, and difficult to determine measurement of butter. The main source of these issues stem from the wax paper parchment or foil wrapping that completely encloses the butter. The problem with this containment system is that butter occasionally sticks to this wrapping, requires the customer to touch the product with their hands when opening the package, and often times the measurement for butter is written on the wrapping making it hard to cut the butter using this wrinkled wrapper once it is removed.
To remedy these issues a tray system was incorporated to replace this wrapper. The tray has an easy to pull out handle that is designed for the customer to easily pull out the tray with two fingers. The tray also features the measurements for cutting the butter running along the sides of the tray. This makes it extremely easy to take out the butter, and accurately cut the butter without ever having to touch the butter with your hands. The final design element is it features a backstop that prevents the butter from sliding out of the end of the tray. The tray is made from recycled SBS paperboard that is coated with an ecofriendly and food grade wax coating.
The package this tray sits in is a standard box that has a latched front panel that securely closes the package. This container is sealed on one end with three glue flaps utilizing water based glues to ensure sealibility, and also add additional strength to the structure of the package. The closure for the other end incorporates the latched front panel in combination with two side flaps, and the pullout tab tray to form multiple layers of protection that help preserve the butter by sealing this end. This box is also made of recycled paperboard coated with paraffin wax to still preserve the butter.
For tamper protection and resealibitliy a resealable tape is attached to the front panel to tape it to the top of the box to lock it in place. This tape also helps in forming the seal in the front of the box and the tab of the front panel is also coated in wax to ensure sealibility. The graphics include a traditional style with a colorful graphic to draw in customers, and for sustainability the ink used is soy based. The final design aspect of the package is it has a cutout on the side with a window to gauge how much butter is left in the container, and this window is made from a biofilm.
The targeted market for this package is to attract customers wishing to buy a single stick of butter, and wish to easily access the butter to cut it with no hassle.