Dress Me Up – Northern Elite
Dress Me Up
| | |
| --- | --- |
| School: | Virginia Tech |
| Team: | Madeline Alden, Anthony Page Clayton II, Zachary Shiner |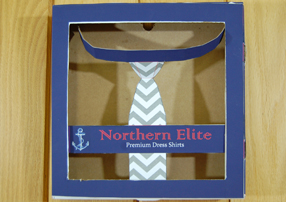 In our design we skipped the hazardous pins, layers of plastic and we chose just one material; 100% recycled paperboard. Although the mock up brand is imaginary, the use of one material to provide function and quality in dress shirt packaging is not. Using 100% recycled paperboard increases sustainability and profitability.
The simple design of the box lends itself to easy opening while at the same time effectively selling and protecting the product. After having a store employee pop out the protective perforated panels, the open face of the box allows the consumer to see the quality of the shirt. The insert portion of the box provides stability and helps the consumer to feel what the product could look like with a tie. The insert allows the company to easily change advertisement depending on market segment. It also can suggest appealing choices that might help the customer visualize new tie choices.
Good packaging must not only be aesthetically pleasing, but functional as well. After listening to the concerns of Target on a visit their warehouse, it became apparent that wrinkles present a significant wrinkle in their supply and distribution chain. Our solution; a box that doesn't allow the article of clothing to move within it resulting in wrinkle-free clothing that enters store shelves. The shirt is secured by the tie design.
The two-piece design uses less paperboard than a similar one-piece. By having the perforated tear-out over the window we are able to maintain the cleanliness of the shirt without incorporating plastic into our design. The perforated tear-out has small tabs for to make removal simple for retailer or the consumer to whom the product was shipped directly. On the back of the package there is a perforated tear out "hook" for retail display purposes. Every aspect of this package has been designed with simplicity and efficiency in mind.