Collar Leaf
| | |
| --- | --- |
| School: | Ringling College of Art + Design |
| Team: | Alex Sanchez, Christian Dyer, Frank Pellegrini |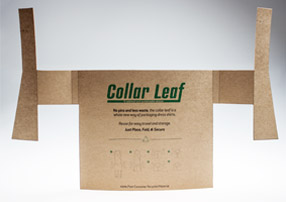 When considering the packaging for a dress shirt, we thought about the process
of delivering the shirt from the manufacturer, to the store, and then to the
consumer. Going further, we considered the use consumers could have for our
packaging. The Collar Leaf is intended to simplify on all accounts: materials,
time, and effort. We chose materials based on their functionality and recyclability.
True recycling is reusing the material without processing, which is why
consumers can easily use the Collar Leaf for traveling. Eliminating wasteful
materials, reducing time, and minimizing effort is why the Collar Leaf is an
innovative packaging design for any dress shirt.