Churned
| | |
| --- | --- |
| School: | Virginia Tech |
| Team: | Josh Pruett, Margaret Mabutas, Cyrus Adibpour |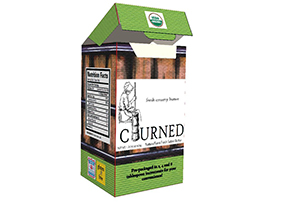 Take yourself back to the 1800s. There is nothing tastier than freshly churned butter on home-made bread. Naturally churned butter made by CHURNED is organic, with fresh cream from our local processors. Using simple ingredients, we produce very rich, very creamy butter. We do not use and colors, preservatives or additives in any of our butter so it will take you back in time like butter is directly from the churn!
Our packaging design takes us back to when home-churned butter was a way of life. Our design combines old traditional values with innovative, sustainable packaging that is convenient for anyone who uses butter sticks. The design allows for convenient access to portioned butter slices in two, four and eight tablespoon increments. Two whole sticks of butter, 2 half sticks and 4 quarter slices are included in the product. This lets consumers quickly take out the amount they need without having to cut the butter and worry about how they are going to reseal it. To choose what measurement of butter you need, simply pull the tab label with the amount you want up and it will be dispensed the wrapped butter slice at the bottom, allowing easy access to the last slice of butter. The packaging lid allows consumers to close and open the product effortlessly and let it lock in place.
Stick butter packaging was overdue for a new design. Our goal was to redesign the primary packaging to make it look more aesthetically appealing. We took into account how people use their butter daily and how much butter people usually use at one time. Most people do not use a whole stick at a time; our redesign eliminates this issue without taking any portion of the four sticks of butter away. The portion control eliminates the step of cutting the butter and not being able to reseal it.
The new design prevents oxidation of the butter fats and in turn, extends the shelf life of the butter. The pre-portioned slices prevent susceptibility to odors in the environment that can also affect its shelf life. Because butter is susceptible to light-induced oxidation, it is important to protect the butter. Our design protects the butter because you are not opening the whole stick unless you need to. Consumers can just take as much as then need and they do not have to worry about the rest of the stick melting or being at risk of mold growth where moisture is present. When the current design of the butter stick is opened, there is no way to prevent moisture from oxidizing the butter and decreasing its shelf life.
Our package is made with graphics printed with soy ink to promote sustainability. The structure is made out of SBS paperboard to promote recyclability. The wrap around background on the package is designed to look like a butter churner for that old traditional feel. But our design is innovative and convenient for consumers. Using earthy tones makes the product feel sustainable and portrays how the product is organic.