Better Butter
| | |
| --- | --- |
| School: | Clemson University |
| Team: | Ryan Watson, Marc Lasitter, Drew Barry, Sam McGee |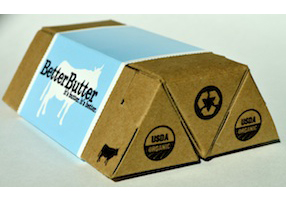 Conventional butter packaging can be difficult, messy, and inconvenient to use, which is surprising for a product that is used on such a regular basis. With only a wax-coated paper covering, it is not easily re-closed, and as the consumer nears the last bit of the product, butter gets everywhere. BetterButter's innovative and intuitive packaging is the answer to these annoying everyday problems, while staying true to the size and quantity of traditional butter packaging.
The new primary sleeve with a secondary box makes removing, measuring, spreading, and re-closing the butter easy and clean. The primary sleeve still has the convenient measuring marks with which consumers are familiar, with the advantage of being able to peel the package away as each tablespoon is removed. The sleeve has perforations at each tablespoon interval, which makes for easy and clean removal. BetterButter uses a paperboard sleeve to hold three sticks together for retail purposes.
The paperboard used in this package is made from all recycled materials, so it has a minimal impact on the environment. This is especially true when compared to butter in a tub, which is significantly more difficult to recycle. The primary and tertiary packages are made from a wax coated solid bleached sulfate, whereas the secondary package is unbleached paperboard. The secondary packaging utilizes two tabs to easily close and contain the butter between uses. The packaging as well as the butter is shaped in a triangular prism, which significantly increases shelf appeal while retaining a very good cube efficiency, which helps to keep costs low.
BetterButter has three main functions that separate it from the competition: single serve dispense, whole stick use, and a butter boat option for the dinner table. The single serve function allows for the user to easily measure off and separate individual tablespoons from the whole. The second feature makes the use of an entire stick of butter easy and mess-free. The fin on top of the primary package ensures a clean surface to hold in order dispense the product. Lastly, the butter boat configuration allows for simple access to the entire stick of butter. The primary package unfolds to make a flat surface that can be used like a butter tray, and then folded back up and reinserted into the secondary box.
BetterButter is intuitive, clean, convenient, and sustainable, and that's what makes BetterButter, better.