Ringling College of Art and Design
Original Charcoal
| | |
| --- | --- |
| Team: | Sean Loring-Smith, Minzhe Chen Cheng, Stephanie Sue Choza Macre, Jon Upton |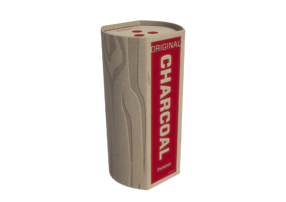 Camping is a lifestyle, a way of releasing modern responsibilities by getting back in touch with nature. Unfortunately, most camping products have not been adapted for a low carbon footprint. The traditional method of packaging charcoal over the years has remained as a cumbersome bag, which is not only hard to handle but also to store. We have decided to approach the packaging of charcoal with simplicity, uniqueness, and renew-ability. We have repackaged the brand Original Charcoal, a company whose mission is to provide a natural outdoor cooking and camping medium using as few chemicals as possible. The company states that their product is meant to appeal to all kinds of customers however, we wanted to improve not only the look of the product, but also the experience with the packaging. We were able to facilitate a design that is not only more durable and easier to transport than the traditional bag, but is 100% biodegradable and compost able.
Most charcoal is packed in paper bags, which are Eco-friendly. They are made of Kraft paper and are laminated with plastic. (PP and PE this is the most widely used plastic with an annual production of 80 million metric tons) However, there is not a clear consensus whether the increased use of these types of bags helps to reduce CO2 emissions. Therefore, we decided that finding an alternative material would reduce the uncertainty and possibly misleading environmental implications of these existing products.
We created a unit that can be completely recycled and gives the perfect amount for a barbecue in the woods. This unit has the form of a traditional chimney commonly used at a fire grill. The practicality comes from the conductivity aspect of fire, which will light at the bottom of the chimney and expand until it ignites and disintegrates the packaging. This avoids any left overs damaging the surrounding environment.
We have chosen a 100% biodegradable product called unbleached pulp paper to create the body of our package. This material is commonly used in egg packaging and items such as drink holders, from fast food restaurants. The material is made out of wood fiber crops, waste paper and water, which means that unnecessary chemical bi-products are not produced in the manufacturing of this package. The color system identifies 3 different types of charcoal the company offers: Briquette, Hardwood Lump and Instant Light. Soy-base inks are used for the printing process. These inks are not only more environmentally friendly but also provide more accurate colors.
The units shape enhances the idea of a log as way to reminder the user where charcoal gets its origins. The embossed bark texture personifies the idea of the outdoors and makes for a much more visually appealing package, enhancing the customer's enjoyment of their purchase. By allowing the packaging to burn with the coal and return to the soil as ash, the product exemplifies the ideals of responsible consumerism.