S'Mores in a Box
| | |
| --- | --- |
| Team: | Amy Dinsmore, Laura Sharp, Deborah Bush, Macy Hilliard, Simmeyon Strickland |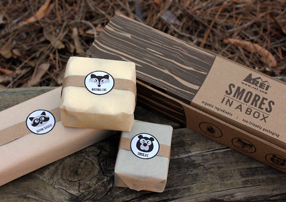 When designing REI's 'S'mores in a Box,' we wanted to build a product and packaging that was not only innovative and aesthetically pleasing, but also sustainable. We decided to market the s'mores toward campers and children in particular. The first goal in our process was to design a package that encompasses everything a person needs to make s'mores: marshmallows, chocolate, graham crackers, and the resources needed to build a campfire. Because everything is enclosed in one container, we are eliminating the packaging, energy, and resources needed to enclose each of the items separately. This is tremendously important for the sustainability of our product, as well as its practicality. The second goal was to ensure that each and every element used in the packaging is needed for the product. Not only does the box contain the ingredients for s'mores, but also a fire starter and matches. The consumer would essentially build their s'more and create a fire for roasting the marshmallows by lighting the box's fire starter with the matches provided and drop it into the fire area. Not
only is this extremely practical and convenient, but also environmentally friendly.
Finally, instead of providing a roasting stick, we decided to encourage the campers to find their own stick by including directions and helpful tips printed on the box. This is certainly the most sustainable option—not only does it give the camper an opportunity to explore, but also cuts out all resources and energy used to
make a skewer and allows for a much lighter carbon footprint. The fire starter is made from wax, wood chips, and lint—each of these items is either made from recyclable or biodegradable materials. The matches are also made out of the same biodegradable material as the box, once again ensuring that the camper leaves Mother
Nature just as he or she found it. To ensure freshness, the individually wrapped ingredients inside the box are packaged in biodegradable material coated in natural beeswax. All of the inks used to print on the packaging are soy-based, as well, an important eco-friendly element. The design itself uses playful fonts and illustrations to create a product that is appealing to children and stands out on the shelf.